What is CRM Automation?
Written by: Victoria Yu
Victoria Yu is a Business Writer with expertise in Business Organization, Marketing, and Sales, holding a Bachelor's Degree in Business Administration from the University of California, Irvine's Paul Merage School of Business.
Edited by: Sallie Middlebrook
Sallie, holding a Ph.D. from Walden University, is an experienced writing coach and editor with a background in marketing. She has served roles in corporate communications and taught at institutions like the University of Florida.
Updated on May 30, 2023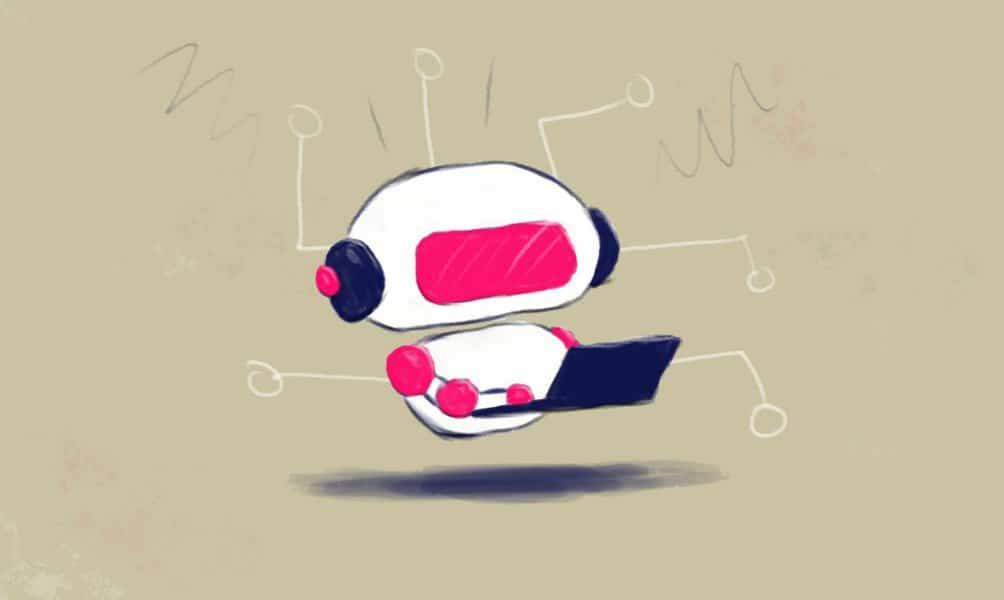 What is CRM Automation?
Key Takeaways
What is CRM?
What is CRM Automation Software?
What Does CRM Automation Do?
Conclusion
As a business grows and attracts more and more customers, sales reps might find themselves overwhelmed by the clerical work involved with maintaining a CRM solution: inputting information, sending multitudes of emails, and tabulating data.
All of these minute tasks add up to be a huge drain on employees' time. But lucky for you, there's an easy solution: an automation platform for your CRM, or CRM automation for short.
But what exactly is CRM automation? If you've been pondering this question, this guide covers all the details on CRM automation and how it could improve your business's efficiency.
Key Takeaways
A CRM automation tool integrates into a business's CRM system, automating menial and repetitive tasks in the sales process.
An automated CRM speeds up a business's data entry, marketing campaigns, sales workflows, and customer service response time.
CRM automation enables marketing, sales, and customer service professionals to provide accurate, speedy, and personalized messaging to potential customers, improving a business's sales numbers and customer satisfaction.
What is CRM?
Customer relationship management, or CRM for short, represents the processes and tools a company uses to track customer-company interactions to learn more about those relationships and potentially increase sales. Rather than the methodology, the term CRM nowadays usually means CRM software systems.
CRM systems are software tools that record and store all customer data in one easily-accessible location. The goal is to connect marketing, sales, and customer service, giving businesses a comprehensive understanding of their customer journey to help shape sales tactics and marketing strategy.
However, the more customers a business has, the more time its employees spend on data management: logging data, wading through leads, and managing each and every customer interaction. This can compound into a truly mind-boggling amount of minutiae that distract your sales, marketing, and customer service teams from their real jobs. How can you free your employees from this drudgery?
Enter CRM automation software to the rescue.
What is CRM Automation Software?
Customer relationship management automation software, or CRM automation software, automates repetitive tasks in the sales process, such as data entry, standard communications, calendar scheduling and management, and contact updates.
CRM automation aims to reduce the time reps spend on mundane and tedious tasks so they can focus on more important issues — such as calling and helping customers.
To be clear, CRM automation software is a separate software integrated into a pre-existing CRM. Although some software vendors may provide both, you'll still have to pay for them separately. Alternatively, you could pick an automation software from a vendor different from your CRM provider: most CRM automation software integrates well with the most popular CRM platforms.
What Does CRM Automation Do?
So what exactly does CRM automation software do? As we mentioned earlier, CRMs oversee the entire customer journey from marketing to sales and post-purchase customer service. Naturally, then, CRM automation software helps with processes in all three fields, plus more.
Let's take a look at some concrete CRM automation tools that can boost your sales processes.
1. Data Management Automation
The biggest draw of CRM automation software is its automatic data entry automation and synching: with it, your CRM system will instantly collect lead data from emails, social media, web forms, and other sources and compile it into one easy-to-view profile, ensuring that employees are always working with the most up-to-date and accurate information.
For example, a lead might first interact with your marketing team on social media. If the same lead emails the sales team inquiring about a purchase, your CRM automation tool would tell the sales team about their social media interactions, such as which of the company's posts they liked, so that sales can customize their sales pitch to what the potential customer is interested in.
By tracking interactions across all customer touchpoints, the automation tool ensures that no data or customers are lost between the marketing, sales, and customer service departments, removing information silos and creating a speedier and more comprehensive customer journey.
Tabulating data and generating reports will also be reduced to a moment's work, as the automation tool does all the calculations for you!
2. Marketing Automation
Next, CRM automation helps the marketing team by automating lead generation, email marketing campaigns, and multi-channel communications.
As a lead comes to the business, your marketing automation software will take care of lead scoring and segmentation, quickly qualifying a lead and categorizing the marketing campaign they'd be most receptive to.
Then, in accordance with your company's workflow, email sequences, and templates, an automated CRM will send out pre-arranged and customized marketing emails to leads, nurturing their interest. With this, your marketing team will no longer have to personally send out every marketing email: they can conduct email drip campaigns on schedule without human supervision.
But the fun doesn't stop at email campaigns. Depending on your software provider, some automation tools include multi-channel broadcasting, letting you coordinate marketing campaigns through websites, social media, call centers, direct mailing, email, and more. With this, your marketing team can build and manage more comprehensive and widespread marketing campaigns.
If this sounds amazing to you, note that you can buy marketing automation software separate from CRM automation software – just don't expect it to provide any of the other perks we mention outside this section.
3. Sales Automation
Next in the sales pipeline is the actual selling: lead assignment and nurturing to get a potential customer to make a purchase. To this end, CRM automation manages lead distribution, meeting scheduling, and CRM workflow automation.
Once leads have been identified and qualified, they're then assigned to a sales rep who will talk to the lead and guide them to a purchase decision. Rather than waiting for a manager or sales rep to manually decide who will get which lead, an automated CRM tool will instantly assign leads to sales reps based on your company's designated lead distribution method, speeding up the sales process and ensuring hot leads don't go cold.
The rep will then continuously reach out to the lead through email, phone, or video conference to nurture their interest. With automation, your CRM platform will integrate all your meetings and reminders into one easy-to-see calendar, making scheduling a breeze.
Then, as leads progress through the sales funnel, your CRM system will automatically update the lead's status based on a series of if/then statements, send out nurturing emails, and remind your reps of tasks to be completed.
Here's an example of an automated workflow, courtesy of CRM Lab. Once you designate the workflow, your CRM will execute steps by itself or remind your sales reps to follow up as needed.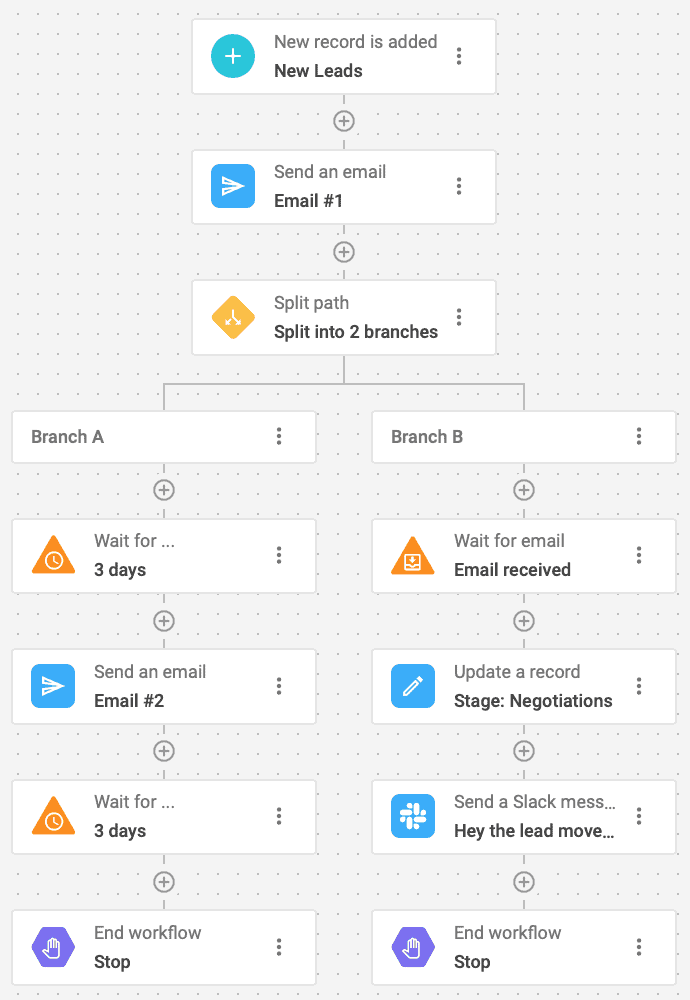 Source: CRM Lab.
As a bonus, if you decide to change the workflow, there's no need to re-train every single rep: simply update the sales workflow in the CRM system, and your reps will get the memo immediately. This boosts a company's strategic agility, letting them respond to new situations and improve processes at the drop of a hat.
4. Customer Service Automation
Finally, CRM automation usually includes auto-responding chatbot tools for a company's website.
If your company has a live chat feature on its website, this usually means that a customer service rep is stuck manning the live chat for hours on end, answering the same old questions time and time again – and during peak hours, customers might have to wait over 15 minutes to chat with a live agent.
Instead, with an automated chatbot, customers can receive immediate responses to simple queries, and customer service reps can focus their time on cases that need more personal attention. Overall, a much better customer experience!
Conclusion
CRM automation brings out the best of your CRM platform by handling the menial and repetitive tasks in data entry, marketing, sales, and customer service, freeing up your employees to focus on real customer interactions and broader strategic moves.
With an automated CRM, your sales reps will be closing sales faster than you can say "customer relationship management."
CRM Automation FAQs
What's the difference between CRM automation and marketing automation software?
CRM automation software and marketing automation software have different scopes: while CRM automation covers processes during the entire customer journey from marketing to sales and customer service, marketing automation only covers marketing processes such as lead management and email marketing.
In short, CRM automation is more comprehensive. It can perform most of a marketing automation software's tasks, while marketing automation software doesn't include functions outside of marketing.
Do I need CRM automation software?
While CRM automation is useful, it's not necessarily a must-buy. For example, if you operate in a smaller industry and have only a few long-lasting customers, it may be more cost-efficient to have a sole account manager per customer instead.
CRM software and CRM automation software can be quite costly as recurring expenses, so it's important to consider your business's current size and growth plan before making any purchases, If you plan to stay small, you may not need either.
Who are some CRM automation providers?
Some providers of CRM automation software are EngageBay, HubSpot, and ActiveCampaign.
Each provider's optimal business size and pricing varies, so be sure to research and pick an automation software provider that meets your business's specific needs.
How much does CRM automation cost?
Thankfully, CRM automation is much cheaper than the CRM itself. For most providers, packages start at less than $30 per month for basic features and run up to around $100 per month for advanced packages. 
EngageBay offers a free all-in-one suite for businesses with 15 or fewer users, which is perfect for small businesses looking to get their toes wet with CRM automation!