Help Desk vs. Service Desk: The Difference
Written by: Victoria Yu
Victoria Yu is a Business Writer with expertise in Business Organization, Marketing, and Sales, holding a Bachelor's Degree in Business Administration from the University of California, Irvine's Paul Merage School of Business.
Edited by: Sallie Middlebrook
Sallie, holding a Ph.D. from Walden University, is an experienced writing coach and editor with a background in marketing. She has served roles in corporate communications and taught at institutions like the University of Florida.
Updated on October 30, 2023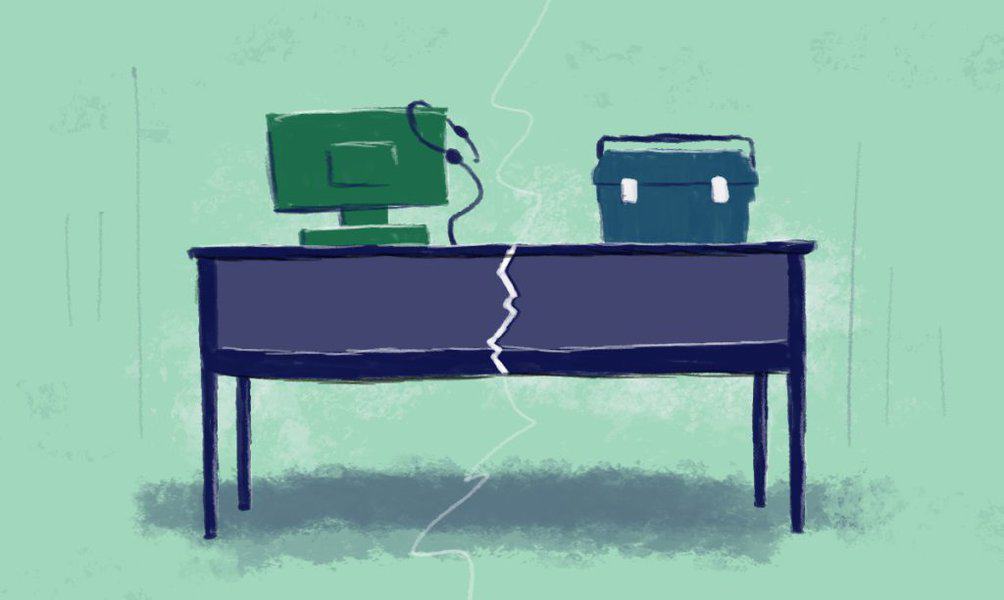 Help Desk vs. Service Desk: The Difference
What's A Help Desk?
What's A Service Desk?
What are the Similarities Between a Help Desk and Service Desk?
Differences Between a Help Desk and Service Desk
Conclusion
After you come home with a shiny new purchase, you might start setting it up only to realize that something isn't working properly. Who are you going to call? (Probably not the Ghostbusters.)
Instead, when a customer has an issue or concern with a product or service, they'll call a company's help desk or service desk to receive assistance. Both of these terms sound interchangeable and seem to serve the same purpose of aiding customers, so what's the difference? If you're curious about the nuances between a help desk and a service desk, this guide will outline the differences between the two and help you decide which one may be better for your business to implement.
Key Takeaways
A help desk provides support to customers and employees about any of a company's offerings or functions.

A service desk provides support to an IT company's customers, helping them manage and enhance their service experience.
What's A Help Desk?
To start off, let's look at a help desk. True to its name, a help desk is a department within a company that provides assistance, support, and information to customers and employees who have issues, questions, or concerns.
While in the old days, help desks might have referred to one person providing technical support over the phone, nowadays, help desks are usually teams of employees using top-of-the-line management software to coordinate dozens of support cases or tickets daily.
Help desks are fairly broad in their scope. A customer might call them for help with their product, or an employee at the company itself might call for help if their wifi or printer isn't working. Notably, the issue doesn't have to be an IT-related one for someone to contact the help desk: some companies even use help desk platforms to manage HR and legal matters.
By providing this support, a company hopes to improve both customer satisfaction and employee satisfaction, boosting its bottom line by encouraging customer loyalty and retaining its best employees.
What's A Service Desk?
On the other hand, an IT service desk (service desk) is a little more complex: rather than a simple troubleshooting support team, a service desk refers to the primary point of communication between customers and a managed IT services company for any reason during the customer lifecycle. Rather than a team of employees, the term refers explicitly to the software platform where customers go to manage their service.
As information technology (IT) became more popular in the '80s, the British government created a framework of best practices for organizations to implement and get the best value out of their IT services and assets, called the IT infrastructure library (ITIL). The term "service desk" originates from this framework, and thus is used primarily by IT companies that deliver technological services to their customers.
More so than simply answering customer questions, an organization's service desk platform also handles other IT service management (ITSM) functions, such as incoming service requests, incident management, knowledge management, self-service, and reporting. Additionally, the service desk tool provides metrics and reports on the service team's effectiveness.
A customer would contact the company's service department at the beginning of their customer journey to be onboarded as a customer and would come back any time they need to manage their experience. This consequently makes the service desk an integral part of any SaaS company's operations.
For example, rather than having an in-house IT department, your company might choose to outsource your network security to another company. As the customer, you would go to that IT company's service desk to sign up for service, monitor your network security at any time, upgrade your service, or even learn more about network security as a whole. The service desk is an all-in-one resource for customers of managed IT services companies.
What are the Similarities Between a Help Desk and Service Desk?
Help desks and service desks are similar in that they both use software system platforms to receive incident cases or tickets from customers and work to resolve those questions or concerns. Both serve as the front line of defense for a company by handling incident management for its products and are an integral part of ensuring that customers are satisfied with their product and experience.
By using a help desk or service desk, a company improves its operational efficiency and reliability by centralizing and standardizing its responses to customer issues.
However, beyond customer questions, the users of these resources and the functions they serve start to vary. In the next section, let's take a closer look at the differences between a help desk vs. service desk.
Differences Between a Help Desk and Service Desk
So we've established that, to some extent, the why of help desks and service desks are the same: to give support to customers who have questions or concerns. How these support services are provided are usually also the same: through a designated help desk software system that manages all of a company's support tickets in one place.
To compare these two desks, it might help to consider four questions addressing the who, what, when, and where of each desk. In the chart below, we can see the differences between the help desk and the service desk by viewing responses to the four questions.
| | Help Desk | Service Desk |
| --- | --- | --- |
| Who comes to them for help? | Customers and employees | Customers |
| What do they do? | Customer incident management, employee support | Service requests, incident management, knowledge management, self-service, reporting |
| When in the customer journey do customers call? | Post-purchase when they need help | During the onboarding process and any time afterward |
| Where are they used? | IT companies and non-IT companies | IT companies only |
First off, while a service desk is used to aid only customers with starting and maintaining their IT service, a help desk is used to aid both customers and employees with incidents, questions, and support concerns. In other words, while help desks have a broader pool of users, service desks have a broader pool of functions.
While an IT company's customer would return to the service desk any time the customer wanted to manage or learn more about their service, because of their more limited use cases, help desks are generally only used by customers post-purchase when they explicitly need help.
Finally, while service desks are an integral part of an IT company's product delivery, a help desk serves more bare-bones functions in both IT and non-IT companies, only serving to resolve problems and offer troubleshooting support. You could assume that a company that uses a help desk over a service desk has a more basic product offering, since they don't offer advanced and centralized service management in the way a service desk does.
As a quick example, if you ran a SaaS company, you could use both terms "help desk" and "service desk" because all of your clients would be asking about your IT services. However, if you sell physical goods or services, you could only use the term "help desk" to refer to your own customer service, and you would instead only use a "service desk" when seeking help from your own business's software provider.
With help desks, customer service reps react to incoming questions and concerns as they come in. With service desks, reps can react to incoming questions, but also proactively manage customers' service operations. Because of this, a help desk is considered a subset of a service desk.
As they provide a broader scope of functions and support a more strategically driven motive, service desks seem to be more popular today: in a survey of what companies called their support center, 36% of companies called it a "service desk" while only 23% called it a "help desk." This could also reflect the rising growth of the SaaS industry and the digital world, meaning that more companies and consumers are trading in complex technological solutions that are better managed by a service desk.
Conclusion
Help desks and service desks both provide high-quality support to your customers, bolstering your company's reputation, assuring your company's success, and keeping everyone happy. However, while a help desk offers basic support to employees and customers alike, a service desk offers a whole suite of amenities and resources for customers, providing proactive management and support of their products.
If your business trades in simple physical goods or services, a help desk will suit all of your support needs just fine. But if you're starting a tech-powered business that relies on providing excellent digital services, we'd recommend implementing a service desk, instead, to empower your customers and put customer success at the center of your operations.
FAQs
Who are some vendors of help desk software?
Who are some vendors of service desk software?
What are some other ways I can improve my business's customer service?
While help desks and service desks both improve customer service by centralizing tickets and optimizing the support process, these speedy solutions don't provide much value without an equally-helpful customer service staff to man the desk. 
To improve your customer service experience as a whole, you could personalize your customer interactions, use positive language, and train reps to know your product inside and out. For more tricks to improve your customer service, check out our guide on 10 Customer Service Tips to Help Your Small Business.
What are some other related terms to help desks and service desks?
Another related term you might see floating around for customer support is a call center. While help desks and service desks usually rely on software platforms to manage tickets and service requests from several communication channels, a call center is a bit more old-school, relying on departments of employees sending and receiving phone calls to manage customer service. Beyond answering calls for customer support, a call center could also send outbound calls to conduct surveys and set appointments for customers. 
Because they only support one communication channel and employees can only process one customer at a time, call centers are seen as quite limited in the digital world. Consequently, they've fallen out of favor in light of more comprehensive help desks and service desks.